Edward Chesney was born in 1922 in Detroit. He has been sculpting in wood and stone for more than thirty years.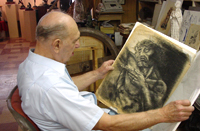 Mr. Chesney drew extensively since early childhood, using whatever surface was available. To the consternation of his parents, this included pages in his text books. His enthusiasm for drawing found legitimacy – and better materials, when he became the resident artist for his school paper. Concurrently, Mr. Chesney discovered music and for three years seriously studied voice. These plans were interrupted by World War II, when he volunteered for the U. S. Marines and served in the Pacific Theater.
In 1946 he was accepted by the Meinzinger art school to study life drawing. Finding such study too passive, he left to apprentice as a cabinet maker. This evolved into carpentry, which later led to ornamental wood carving. His work included the building of circular staircases and carved fireplaces, as well as other fine carvings in the mansions of Grosse Point.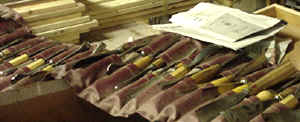 From 1960 to 1969 he studied under noted Hungarian maestro Ferenc Varga, a nationally known sculptor influenced by the school of Mestrovic. This school is distinguished for two elements: that the human anatomy is exalted as a dimension of spiritual vision in the tradition of Michelangelo; and that surfaces are combined with space in a dynamic modern manner.
As a master of these difficult elements, Mr. Chesney demonstrates a highly disciplined individuality. His works range from textured portrait sculpture to severe and abstract anatomical design.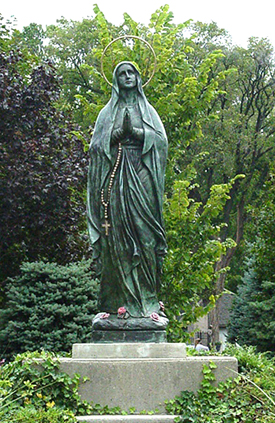 Continuing his education, Mr. Chesney traveled to Carrara, Italy where for an extended period he concentrated on the classical are of carving marble.
For the past twenty years, Mr. Chesney has maintained a studio in Eastpointe, where he works in bronze, marble, wood, and fiberglass.
Working both as an artist and artisan, Mr. Chesney has completed commissions in the design and creation of numerous works of art. Early commissions included an intricate organ grille in the chancel of ST. Jude church in Detroit, and the carving of the grand staircase in the Henry Ford residence in Grosse Pointe.
Mr. Chesney's later commissions were for portrait sculptures, and fine marbles and bronzes. They include:
The imposing five figure, eight foot bronze "Holocaust" for the Jewish community of Skokie, Il (1987)
The life size "Physician/s Memorial" in St. John Hospital, Detroit (1987)
The twelve foot bronze "Fireman's Memorial" in Roscommon Michigan (1980)
The eight foot bronze of Canadian naturalist Jack Miner in Kingsville, Ontario.
The seven foot bronze of Monsignor Clement Kern in Detroit (1986)
Life size nude figures for fountains in Toronto and California.
His work is also represented in churches throughout the state of Michigan by life size wood carved religious statures.